"From Hobby To Enterprise"
Join Joshua Alexander for a virtual Zoom workshop on Saturday September 25th 2021 from 9am to 2pm PST via Zoom! (With a 1-hour lunch break.)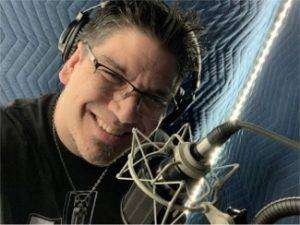 Josh has a great and in-depth presentation to help equip you to TRANSFORM your VO pursuits from part-time hobby to full-time business!
Josh books, on average, 10-20 jobs per week from repeat clients, agents, and the P2P's (pay to play voiceover marketplaces).  Josh is successful because he treats his voiceovers as a business.  As others before him have said, he is a business owner who just happens to do voiceovers.  Treat it like a business, and you have a movie vehicle for success.  This is what Josh will teach you.
If you've been struggling in the business side of things, this is the workshop for you.
Sign up below, and more importantly, see what previous attendees said of Josh's workshops below, following the registration form!
=======
PRE-REGISTRATION & PURCHASE OF ADMISSION IS REQUIRED.  SPACE IS LIMITED, SO NO REFUNDS, SORRY!
Here are the details:
"From Hobby to Enterprise" Virtual Zoom Workshop - link to be provided
Register using the form below.
9am to 2pm on Saturday September 25th, 2021 (1 hour lunch break at 11am PST)
Pre-registration online is required.
Cost: $59
Link will be provided before session
RSVP by end of day Friday, September 24th, 2021
See you there!
Here's what past attendees say:
Joshua Alexander's "The Business of Voiceovers: Hobby, or Career" workshop in April of 2019 was a game changer.   Not only was his presentation engaging and inspirational…it was full on JAM-PACKED with information that's current in todays ever evolving VO marketplace.  Joshua's innovative ways to connect and secure work with potential clients is a testament to his success in the competitive field of voiceover.  He basically pulled back the curtain for a behind the scenes peek of how he's prospered, and THEN provided everyone with a playbook on how to do it themselves!  (That was probably a dumb move on his part…but a major plus for those who didn't point it out). In addition to the plentiful platters of food and beverages, Joshua's passion and gratitude for the business of voiceover permeated from every pore of his being.  That was another wonderful benefit everyone got to take home!
– Scott Burns, Voice Talent / Producer / Voice Coach
Joshua's classes are top notch!  He has great material, an easy to absorb teaching method, and wonderful students to network with as well as learn from.  Will definitely take another class!
I attended Joshua's Marketing, SEO & Business Workshop for Voiceover Talent in November 2018. I came away with a WEALTH of information and a better understanding of how to optimize my site and keep it optimized amidst the ever-changing rules of SEO. Joshua's style of teaching is relaxed, fun and very informative. In his many years of running a successful business, he has learned countless methods for maximizing his time and efforts without sacrificing excellence. Thankfully, he's a generous soul who is happy to share is wisdom with his friends and colleagues. I highly recommend any of Joshua's workshops; whether you're just starting out or a seasoned pro, there's always more to learn and Josh makes it easy to stay on top of a rapidly changing industry.
Joshua Alexander is an excellent teacher and friend. I've taken all his workshops related to voice acting. How to become a serious voice actor, how to treat voice acting as a business and how to find out if voice acting is your passion or a hobby. He gives you an excellent and realistic introduction and uses personal experience as samples in them. On top of that, his advice is accurate and true since he is an active voice talent with more than 10 years of experience; he knows all you want to know about voice acting. Another plus is that the workshops are affordable, you can pay each workshop individually online, or at the beginning of the workshop itself. This is a great advantage over other workshops I've seen or taken, for if you are not sure if you want to fully commit to the education, the expenses related to starting are too much at the moment, if you were just looking to get your feet wet, or you simply decide voice acting is not for you, there is the advantage that you can stop going since it's not a semester commitment or a program that you paid ahead before finding out if you were really into the subject or not. In retrospective I recommend anyone seeking to find out more about voice acting to contact  with Joshua Alexander and take his valid and very relatable workshops about the world of voice overs, either because you want a career change or just want to find out more out of curiosity, I cannot stop insisting that these workshops are the best place to begin.
- Gabriel Uriarte, Voice Talent
It was a pleasure to learn from him! Having worked before in VO, but in another language, and coming from other country, Joshua was the perfect instructor to guide me on my re-insertion to the VO market. Knowledgeable, funny and with a warm approach, he is definitely on top of his game and not afraid to help others to continue with their VO journey.
"I am VERY new to the voiceover industry and had literally no idea where to start. I attended one of Josh's workshops and was blown away!!!  Not only did he keep every person in that room engaged during the whole program, but we walked away with priceless knowledge.  I now have my "next steps" and know exactly what I need to do to get the ball rolling.  I know what resources to turn to when trying to negotiate pricing with potential clients.  I even know who to reach out to for coaching opportunities!  If you are trying to break into this industry, or even trying to sharpen yourself as a voiceover artist, you NEED to consider Joshua Alexander. You will regret missing out on this!!!"