Services for Voiceover Colleagues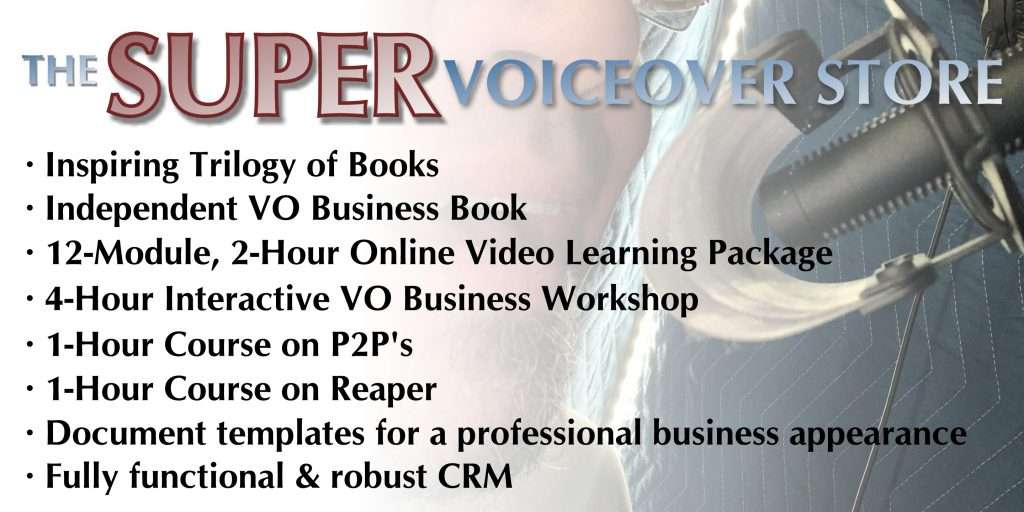 Interesting in starting out in voiceovers?  Been at it for a while and need some refreshment?  To clarify, I'm neither a Voiceover Coach nor Demo Producer, but I have a great reference for you if you're looking for one!
Visit my store and see what I have in store!
To explore or purchase a la carte, visit the links below.  I offer some amazing services to help you get started, or to take your voiceover game to the next level, including the following:

Super VO Business Docs: documents including contracts (with clauses!), marketing messages, goal tracking sheet, professional stationery like letterhead, and more. to up your professionalism and up your game!  Click here for more info!

The VoiceOverdrive Complete Business Guide: Over 2 hours filled with 12 comprehensive modules to teach you about creating & sustaining a thriving VO business and so much more!
The Super VO Book Trilogy: 3 inspirational books.  The first is 310 pages to inspire you that you can do this!  Want more?  The second is 300 more inspiring page!  Still hungry?  Check out the grand finale for 325 pages of you-can-do-this! 
Click here
for more info.

FirstVoiceData: a Microsoft Access-based CRM that enables accounting, ROI, tracking, customer-follow-up, marketing, and of course much more.  
Click here
to check it out.

I run several workshops each year.  Check out my workshop information and registration page for upcoming workshops!
If you'd like to be kept informed about the next workshop, click here!  Thanks.
Here's what attendees say:
Joshua Alexander's "The Business of Voiceovers: Hobby, or Career" workshop in April of 2019 was a game changer.   Not only was his presentation engaging and inspirational…it was full on JAM-PACKED with information that's current in todays ever evolving VO marketplace.  Joshua's innovative ways to connect and secure work with potential clients is a testament to his success in the competitive field of voiceover.  He basically pulled back the curtain for a behind the scenes peek of how he's prospered, and THEN provided everyone with a playbook on how to do it themselves!  (That was probably a dumb move on his part…but a major plus for those who didn't point it out). In addition to the plentiful platters of food and beverages, Joshua's passion and gratitude for the business of voiceover permeated from every pore of his being.  That was another wonderful benefit everyone got to take home!
– Scott Burns, Voice Talent / Producer / Voice Coach
Free Voiceover Consults

Interested in starting out on a career in voiceovers?  Need to rev up your existing business?  I provide free half-hour consults to help you up your game.
I conduct on average between 5 and 10 voiceover consults a week, and I get to talk with a lot of people who are interested in starting out, and have questions on voiceovers. Coming from someone who reads scripts for a living, all day long, I love pulling back and talking to the 3-dimensional people!
Voiceover Demo Videos

Do you have Audio Demos?  Of course you do!  So let's say you need to have videos made from those audio demos.  I can help you create something with moving graphics incorporating your logo, your contact information, and of course the demo itself, for posting to YouTube or Vimeo so your SEO score can improve.
I've been a corporate and wedding videographer/video producer since 2003, and have plenty of production and rendering experience to create some flashy video demos.
Here are some examples: